What is Vendetta Online?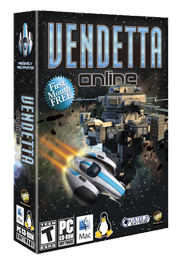 Vendetta Online™ is a long-running scifi MMORPG, where players fly spaceships in a vast, persistent galaxy. Users may build their characters in any direction they desire, becoming rich captains of industry, military heroes, or outlaws. A fast-paced, realtime "twitch" style combat model gives intense action, coupled with the backdrop of RPG gameplay in a massive online galaxy. Three major player factions form a delicate balance of power, with several NPC sub-factions creating situations of economic struggle, political intrigue and conflict. The completely persistent universe and detailed storyline add to the depth of immersion, resulting in a unique online experience.
The game went online with a public alpha in 2002; followed by a successful north american retail launch in 2004, with versions for Windows, Mac and Linux. Since then, the game has been continually expanded and improved with weekly patches. You can view a recent HD game trailer below:
This 3D MMORPG is really available for Android™?
Screenshot from PC version
The game is currently available in the Play Store for owners of compatible devices. The game was initially launched in March of 2011, exclusively for Tegra tablets, but has since been upgraded to support phones as well as other chip types.
What Android™ hardware will run the game?
We currently support phones and tablets with: Gingerbread (2.3) or better, wih a 1GHz multi-core ARMv7 (FPU). Tegra4, Adreno 320+, Mali-600 and PowerVR Series 6 GPUs are recommended. At least an 800x480 display is required. At least 512MB of ram is needed, as well as 500MB of free space on internal flash memory.
We do also support the specialized input controls available on the SonyEricsson Xperia PLAY, as well as the Sony Tablet P. Keyboards, such as those found on the Asus Transformer series, also work well. We also have integrated support for some common USB joysticks (Xbox 360, PS3, Logitech F710), as well as next-generation bluetooth mobile gaming devices like the PowerA Moga (GingerBread 2.3 or better required for joystick support). Micro-consoles like the OUYA, Madcatz MOJO, GameStick and others are also supported.
What if I have different hardware, or can't find the game in the Play Store on my device?
Due to limitations in the Play Store's publishing mechanics, we do not yet make the game available for hardware other than those listed above. However, if you would like to try the game at your own risk you may manually download our "sideload" APK from this link and try installing it. We cannot guarantee that it will work. If it does, or does not work, please feel free to report it on our Android Forums.
Also, while other APK downloads for our game might be out there, we only recommend using the one linked above from our site, or the installation directly from the Play Store. Non-official downloads and installations may contain spyware or other malware.
Will it run on my phone?
Yes, the game is now available for phones, via the Play Store. As always, the interface will continue to evolve and improve with player feedback, so please feel free to submit ideas to our Suggestions Forum.
Will Android™ users play in the same universe as computer users?
Screenshot from PC version
Yes. We are a single-universe game, and all platforms access that universe. The intent is for our computer players to be able to enjoy some time in the game while using a low-power device sitting on a subway or in some other mobile situation. When they get home they might choose to switch to their computer and continue playing. Alternately, some players may choose to only play on their Android™ devices, and this will be viable as well. Flexibility is key.
What kind of performance can we expect?
After substantial optimization over the past year, we're now seeing between 20 and 40 FPS on most scenes, averaging around 25 (1024x600 on a 1Ghz Tegra 250 based tablet). We currently frame-limit the game to 40FPS, prioritizing battery life over high framerates (this is a user-configurable option, however). We support the "Native" APIs available on Gingerbread or better, which yield a bit better framerates and interactivity on devices with newer operating systems.
Will the game work over 3G and WiFi networks?
Yes, that is the intent. The game should work well over broadband 3G or WiFi, and may even work acceptably over some lower-bandwidth "EDGE" connections. The game was originally designed to be playable over a modem, so bandwidth is generally not a major concern, except in extremely intensive gameplay situations (such as very large space battles).
That being said, due to the realtime "twitch" nature of combat and flight, there are benefits to having a low "ping" time to our North American servers, as well as a reliable connection. Any wireless connection can experience dropouts due to interference or other issues.
For those wishing to play over 3G, we highly recommend having an fairly beefy data plan before playing any network game, ours included. We will be looking at adding a bandwidth calculator into the client, to help people avoid overusing their data subscriptions.
Is your game all Java?
No, the game client is a mixture of C++ and Lua (compiled for ARMv7-A). We have written minimal java wrappers to allow us to work within the current Android™ NDK. We also support the fully native APIs released with Gingerbread, with fallbacks to Java to maintain Froyo compatibility. We will eventually include the Android™ build target as part of our proprietary NAOS Engine middleware product.
Why not the iPad?! I just bought one..
The game is also now available for the second-generation ipad or newer (ios 6+).
How can I learn more?
You can follow our ongoing development news-posts through the buttons below. You can also try the Mac, Windows or Linux PC version of the game. You may also read our Android Forum, and post if you create a game account. Or, you can peruse our company website and directly contact us if you like.